Tree Surgery for Harrogate
With an experienced and dedicated team of arborists behind us, Treesaw is an industry leader in arboriculture and tree surgery in the Harrogate and Leeds area. Whether you need small-scale domestic work or a more industrial and commercial-scale project to be carried out, we have the tools and the know-how to complete the job to a highly professional standard.
Harrogate Projects
We are proud to have been an integral part of the rejuvenation of the Japanese Garden at Valley Gardens in Harrogate.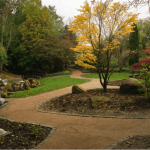 Treesaw aided the great work undertaken by
Friends of Valley Gardens Project
by clearing the site of dead and overgrown trees, opening up the paths and views to allow a new garden design to flourish.
Our Accreditations
Our competence as tree surgeons for Harrogate has been recognised by a number of regulatory bodies, including the Arboricultural Association having gained Approved Contractor (ARB) status, so when you call on us you can expect an unrivalled service. You can find out more about tree surgeons and our processes here.
The quality of our service isn't a fluke; we take every step required to ensure you are happy with the end result. No matter where you are in the Harrogate area, we will make sure there is a team leader on your site to oversee the project. Having another pair of eyes on every site guarantees that the work is nothing less than perfect.
We never go into any project blind, either. Our free estimates and enquiries give you an instant idea of what work you require and how much it will cost, and it also allows our tree surgeons to prepare properly so they aren't faced with any surprises while at work.
Firewood Logs in Harrogate
In a commitment to the environment, our Harrogate tree surgeons also save any waste materials to be used for firewood. Our tree surgery service does not only provide you with a clean and tidy finish, but it also plays its part in protecting the environment.
Contact Treesaw Harrogate Today
If you are located in the Harrogate area and are in need of any tree surgery services, then don't hesitate to get in touch with us. Treesaw has built a reputation for itself in Harrogate and the surrounding area for being home to the very best tree surgeons around.
To get in touch with our Harrogate tree surgery team, feel free to fill out our online form, or if you would prefer to speak with one of us in person, you can call us on 0113 239 1271.
Contact Treesaw
Whether your trees are overhanging or just in need of a spruce up, our team of friendly and professional tree surgeons based near Harrogate will always be on hand to help. Call us on 0113 239 1271 and we will arrange for someone to come and see you. As we are based in Leeds, we are able to cover the areas of Harrogate, Bradford and Wakefield and can get to your site quickly if it is a matter of emergency. You can also get in touch via our online contact form; send us a message and one of our advisors will get back to you as soon as possible to answer your questions.
Free Estimates
We are happy to travel to your location in Harrogate to provide a free estimate. If you would like a free quotation, contact us using our contacts page or call us on 0113 239 1271.
Find us on The Arboricultural Association

Treesaw
Tel: 0113 239 1271
Emergency: 07754 733124
Email: [email protected]
Opening Times:
We are open Monday to Saturday 8am – 6pm
We also cover: